We were first meant to sail to the Tobago Cays in the morning, but because the captain had another booking we had to wait until 04:00 pm. We got to keep our room and were given lunch, so it was no trouble for us. We still hadn't decided how many days we would be out on the sea.
Time to go, David drove us to the port. David said we could leave a large part of our baggage at his hotel and also we could borrowed snorkeling gear and beach towels of him. We said goodbye to David and jumped in a small dinghy that would take us out to The Grey Goose as the sailboat was called. They met us Captain Ferdinand welcomed on board and showed us our berth – the sleeping and we were able to stow our luggage.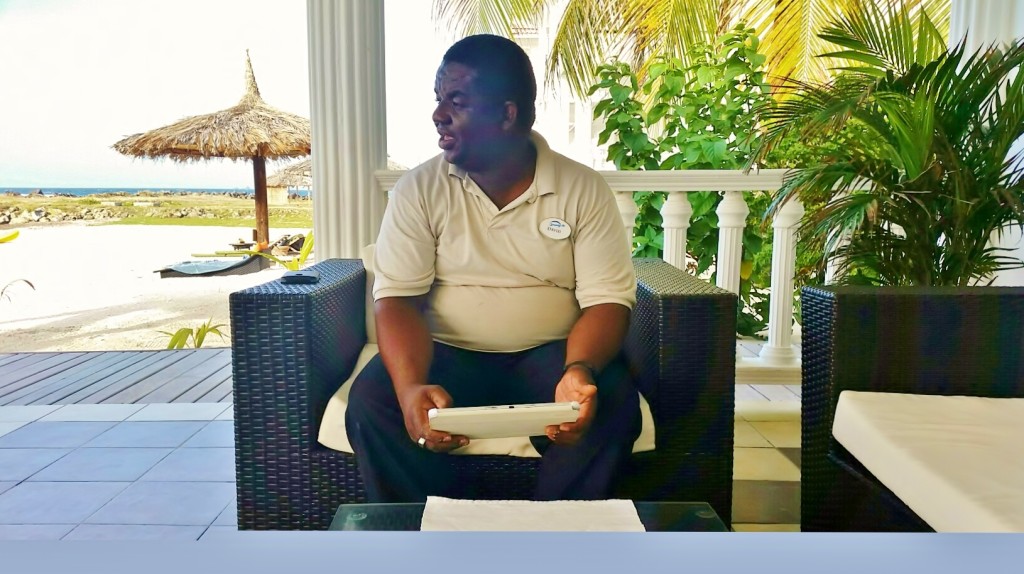 It was somehow a powerful experience to sail out to sea with these huge waves. Sometimes when you looked at something elsewhere saw just how a wall of raging water coming toward sailboat on something seemingly staggering under managed float above … We came to Tobago Cays at dusk and dropped anchor.
On arrival into the Cays Captain Ferdinand or Ferty as his friends call him, gave us quick instructions on how to help him reel in the sail he had opened earlier, as well as hold the helm steady while he ran to the fore of the yacht to loosen the ropes and then drop the anchor for mooring. We had been under the impression from David that there would be one or two other hands-on-board the yacht together with Captain Ferdinand and at the beginning of the trip when we asked about the other helpers, he informed us quite casually that he usually sailed alone and didn't need any helpers. Neither Håkan or i have sailed or been on such a large sail yacht before, so we nervously followed his instructions and quite soon The Grey Goose was docked. He also informed us he would be preparing all our meals. We felt quite relaxed. The journey over to the Cays was a little rough but nothing The Grey Goose couldn't handle. Ferty rinsed the salt water off the deck of the yacht then we took showers on deck and changed out of our wet clothes (and if anyone is wondering….we showered in our swim-wear) 🙂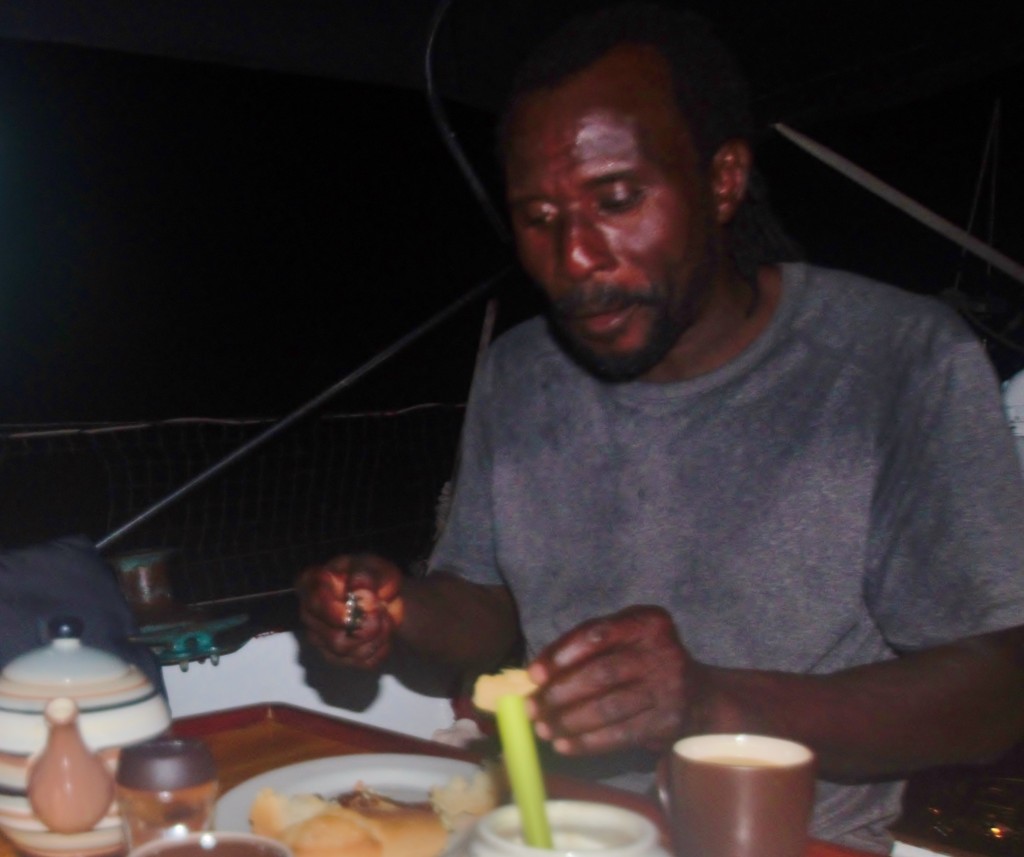 The evening was turning out to be really pleasant. After a nice simple meal of omelettes, toast and fruit, Ferty took us to shore so that we could see how the locals from Union Island had set-up small barbeques where they offered grilled fresh Lobsters to the many sailing tourists. It was a little over 10:00 pm and most of the 20 stalls were closing for the evening. We walked around and of-course Ferty knew most of the vendors. It is prohibited to sleep on the Islands in the Tobago Cays, strict rules were set up 10 years ago for the protection and conservation of the Marine park in the Cays. These rules restrict fishing, littering, camping or sleeping on the islands. Sleeping in the Marine Park on a sea vessle is however allowed at the cost of 10 Caribbean $ per person\night. Which for the locals it too expensive so this means that they close shop every night when all their dinning guests have left, pack everything onto small fishing motor boats and travel all the way back to union island in the dark on the high seas. Its just over 10 km from Union. Then every morning early, they return again with their kitchens and fresh bread and pastries and once again set up shop for the new day. What a life! 🙁
We took the dinghy back to The Grey Goose and sat on deck for a while talking to Ferty. We noticed that the people on the yacht behind The Grey Goose where out with torches checking. We didn't think much of it but it started to get windy then it started to rain so Håkan and i decided to go to bed….
We had just gone down to our sleeping loft when we heard Ferty talking to people out on the deck. Håkan went up to see what was going on then he started shouting for me to come out with a torch. As i came up on deck, i realised that something definately was wrong. The sail yacht behind ours seemed frightingly too close and before i knew it complete turmoil broke out around us. Someone was screaming for a knife to cut loose the dinghy. The yacht behind us was now right into us, people were screaming and poor Håkan was trying to push us away from the yacht behind ours as Ferty was cutting the rope to his dinghy since the dinghy was now hanging from the other boats anchor line. Someone was screaming why The Grey Goose didn't have any fenders out. I pulled up the stairs from the side of The Grey Goose to try to minimise the damage to the other yacht since our little Captain hadn't pulled the ladder up or laid out any fenders. Everything was happening so fast, It was like having a very bad dream. As soon as the line to the dinghy was cut, Ferty and Håkan managed to push The Grey Goose away from the yacht it had crashed into and then Ferty starts shouting that he has to go find his dinghy before it gets blown further out to sea. The Grey Goose  is now still not securely anchored and secured to a mooring buoy, like all the other yachts had been because of the strong winds. Without even listening to our protests Ferty now jumps into the dark sea swimming after his damn dinghy! Håkan and i just sat there looking at each other. Did i mention that none of us had any experience or knowledge of a sailing yacht? Well now all we could do was pray and hope for the best, it also started dawning on us that we were Captain Ferty's little helpers and we had no idea what we should do next….. Luckily The Grey Goose was pushed far away from the yacht it had crashed into but closer to another vessel. We actually tried shouting  for help but because of the wind, no one on the other yachts heard or came out. After like about 20 minutes of waiting and praying that the anchor wouldn't move again and that Ferty hadn't drown and help would come. In the dark we see a light from a dinghy coming towards us….. towing another dinghy. Yes, it was our brave little Captain or should i say Skipper. He had managed to wake up two guys, whom he had lied to in order to get them to leave their yacht and help him look for his dinghy in the storm in the dark rough waters. Yepp… He had told them that there was someone in the dinghy drifting out into open waters, this to get them to help him :-(. But imagine our astonishment when the guys in the dinghy with Ferty came along the side of our yacht and we hear them speaking SWEDISH! They were even more surprised when I started speaking to them in Swedish. They were really great these two guys, we explained what had happened (The true version not Ferty's ridiculous version) and they were just laughing after having heard Ferty's version, but nonetheless they were happy to have been of help. We helped Ferty get his yacht secured to a mooring buoy but I can tell you that night neither Håkan or i got any sleep. We were too afraid!