There was a relative early ascent this morning. That was a bit so-so with sleep this night. Theresa woke up in the middle of the night and thought she saw someone standing by my bed and woke me up. Another time also in the middle of the night, she was on the toilet screamed that it was the world's largest cockroach in the sink. I was very glad that I did not see it, I hate cockroaches in the bathroom. We packed up our things and made coffee and ate avocados while we watched a huge storm pulling over. Lucky for us, because I had not wanted to fly through it!
The taxi came and picked us up at 9 am and we drove past the yacht club that paid the hotel. We also took out the money. We had forgotten that we have to pay money in cash to get out of the country …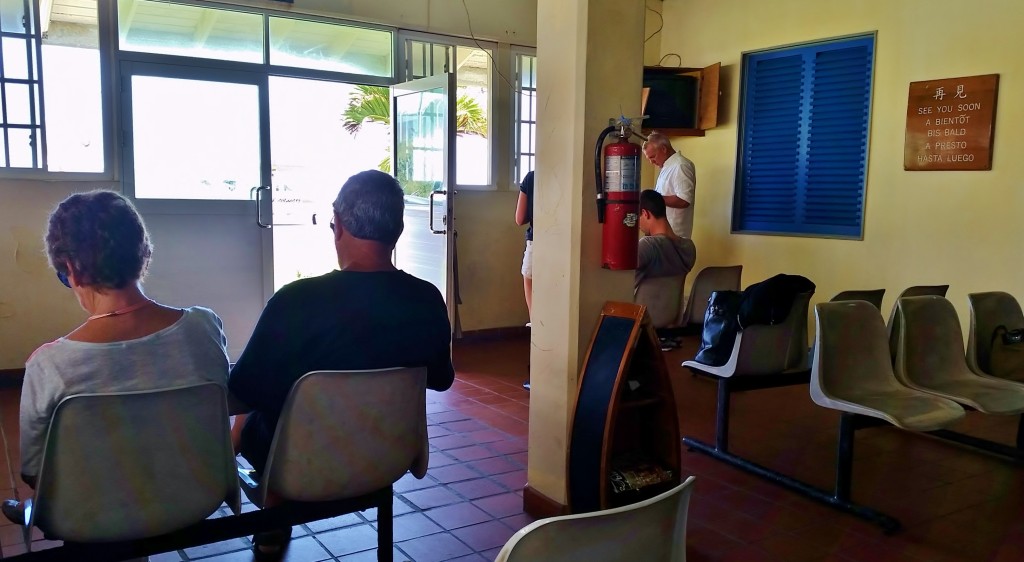 Once at the airport, they went through all our luggage when we checked in but we must not go in and sit in the waiting room, instead we could roam a bit how that preferably. And believe it or not, David came and wanted to say goodbye to us and at the same time gave the recipe for the good chicken sauce to Teresa. He drove us additionally so we could buy water. This David – a genuinely kind and fantastic man and we for sure will miss him a lot…
Well, we eventually came away with a small plane, it was quite fun to fly with it when you could see through the windows in the cockpit. We made a stopover on Bequia then on to Barbados and as usual we were a little late when we landed.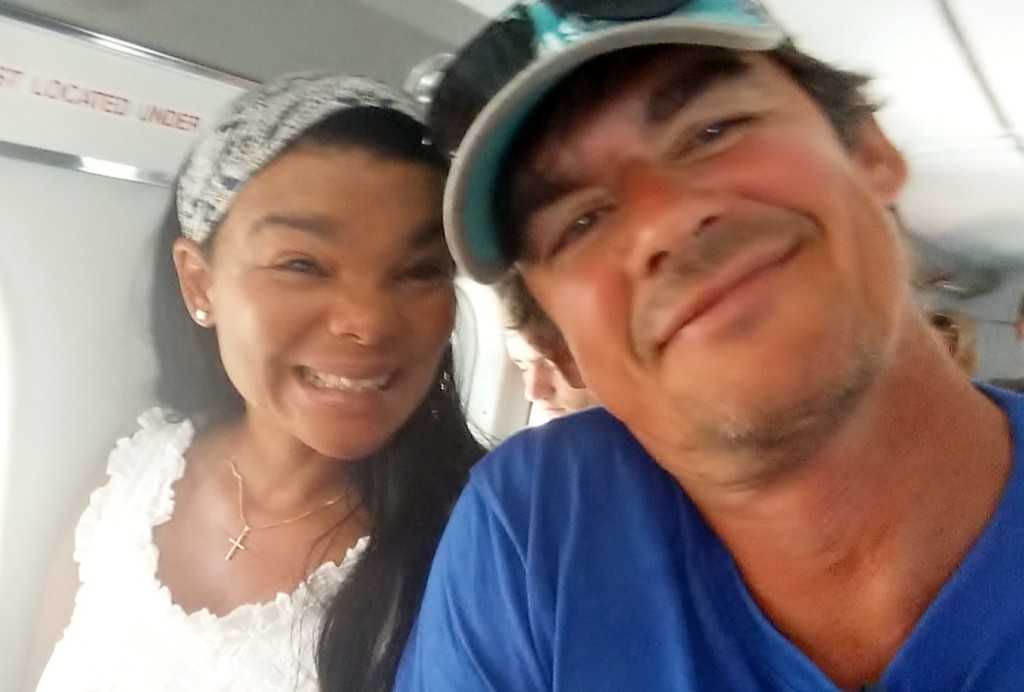 When we would go through customs so we got stuck with Theresa's hat because it turned out that it was made of grass so they have to check to see if we were alowed to bring it into Barbados. Now Älskingen got fed up and thought they fucked with us.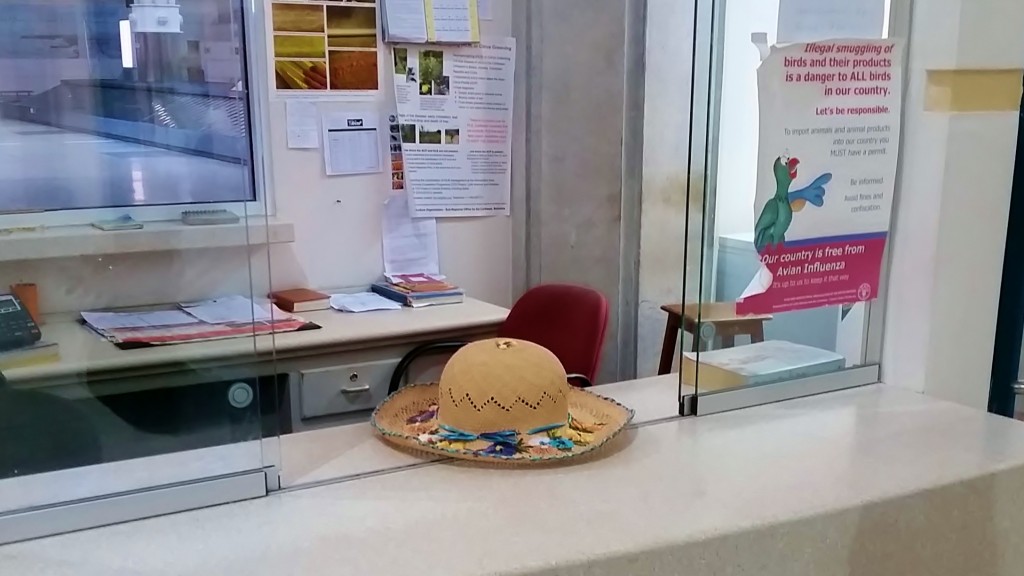 We took a taxi to the hotel and checked in at the Mariott. But once there someone told us there was only included breakfast for one (!!!) person. We insisted that we had ordered breakfast for 2 persons and thats part of our payment, for why should we only order breakfast for a ??? It was a tedious and drawn out conversation so finally went to our room. When we have rested ourselves for a little while, we went back to continue the now completely absurd discussion, we kept arguing for hours on the damn breakfast and in the end they gave up … and thanked that we had identified a problem they had with that issue, it did not conform to Hotel.com … REALLY ??? But how about making some money hey? Hotelbreakfast here is so damn sick expensive, they go to $ 20-30 per person and breakfast consists of little eggs, bacon, juice and coffee …like…!
After that we feel as usual a little hungry so we went down to KFC we were eager to get some hotwings.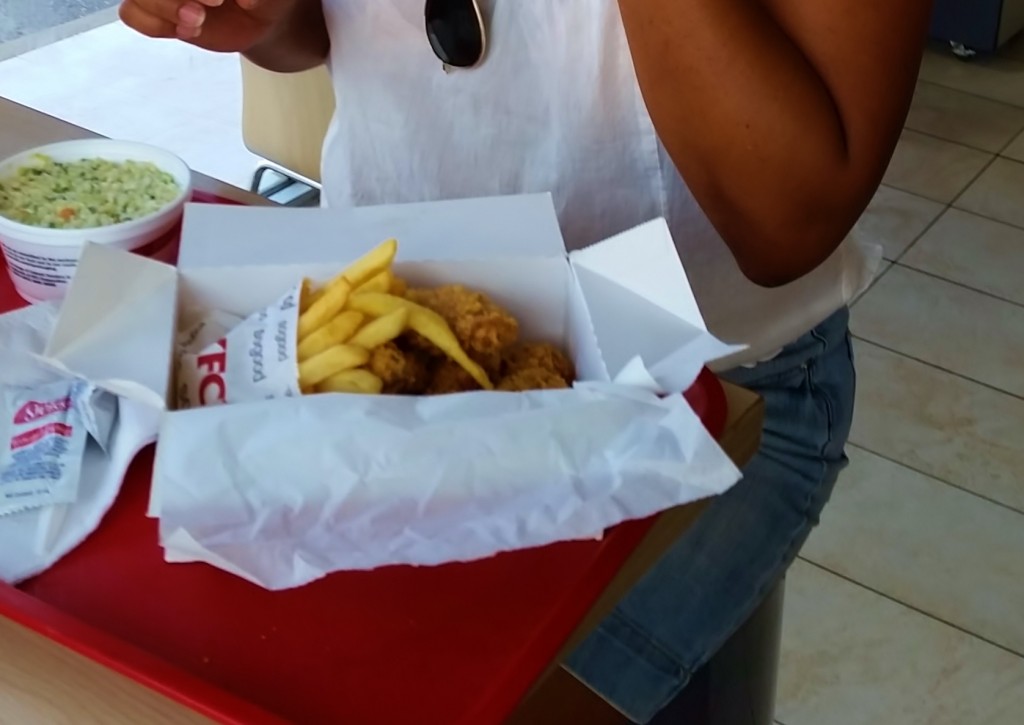 After we had eaten, we took a walk on the Boardwalk, it was quite pleasant to walk along the ocean. We spent the rest of the day to be on site and writing the blog, pack up some things, watch TV, drink a beer or two and order up some food in the room in the form of chicken- and shrimpswraps. Hungry back course …
Tomorrow we're going to have some breakfast…